A wonderful group of bloggers have gotten together to share different and special aspects of the Christmas Holiday Season for you to ponder and experience. You will find traditions, stories, helpful hints, recipes, crafts and more. Enjoy yourself. You may even find a bit of Christmas magic!
Here is the fifth day of Christmas blog post to visit, about making Hierloom Ornaments from
Bleak 2 Unique.
Welcome to our Blogshare...
Gather 'round, grab a chair and join me in making a wonderful Christmas memory...A Christmas ornament that can be made to fit any style or decor using almost any family treasure.
Our family has been making our heirloom ornaments for over 50 years, and now I would like to share a tutorial so you can make your own family heirloom for Christmas! ( Mouse over image below)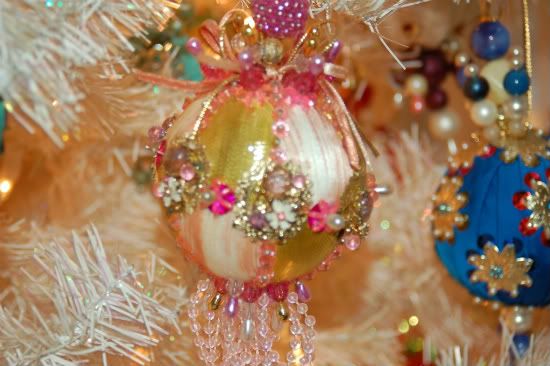 A Sample of what you can do!
Visit the Rabbit Hop Shoppe for great rabbit-themed holiday gifts and cards. They can be customized, usually ship in 24 hours and are great quality.Click on the Santa Bunny picture below!
Please "like" Rabbit Slippers Blog on Face Book to keep up with the latest postings and events.
You can also sign up by e-mail notices at the top right of the page. (Your privacy is important to Rabbit Slippers).
You can also follow through Google Friend Connect or Networked Blogs, both located in the right side bar.
Thank You!
Please visit the Rabbit Hop Shop at the following link (Rabbit Hop Shoppe link) for rabbit themed items and gifts! Please also "like" the Rabbit Hop Shoppe Facebook page. Thanks!